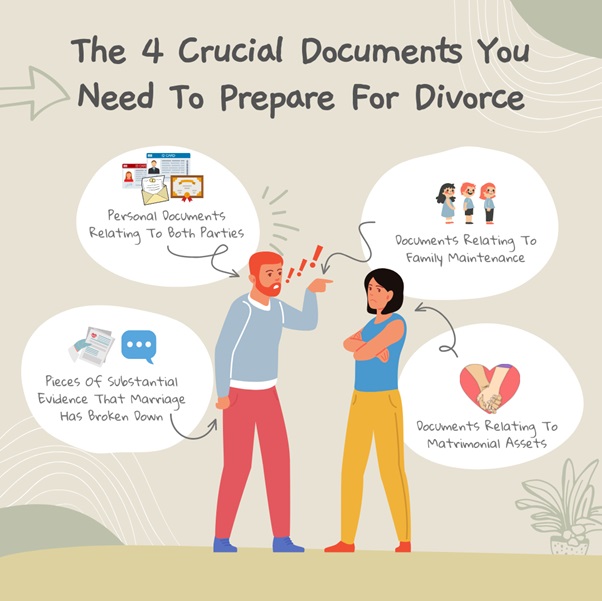 Getting a divorce in Singapore is no joke. First and foremost, you should put in a hefty amount of money as divorce in the country is a bit pricey. Aside from the cash, prepare yourself, as the entire divorce procedure will drain your energy for six months to a year, but it can still vary whether it is a contested or uncontested divorce. Lastly, you will need to get all the paperwork organised.
Lawyer fees for divorce may seem a little costly, but hiring a family lawyer can actually be helpful. If you're contemplating a divorce, here are the documents you should prepare and submit to your lawyer.
PERSONAL DOCUMENTS RELATING TO BOTH PARTIES
Before arranging your divorce in Singapore, including the cost, lawyer, and other relevant aspects, start preparing your personal documents first, such as the following:
 The personal identification cards of your spouse and you,
 Marriage certificate, and
 Birth certificates of your children, if there are any
PIECES OF SUBSTANTIAL EVIDENCE THAT MARRIAGE HAS BROKEN DOWN
The court only grants divorce in Singapore under the following grounds:
Adultery: if your spouse committed adultery and you find it too unbearable to live with them, you can file for a divorce in Singapore. However, you need substantial evidence to support your claims. Some supporting proofs accepted in court include reports from a private investigator or messages between the parties.
Unreasonable behaviour: the most common reason is domestic abuse. In this instance, you need to present medical reports to prove your divorce in Singapore.
Desertion or separation. If your spouse deserted you continuously for at least two to four years before filing, it could pass for grounds of divorce in Singapore.
DOCUMENTS RELATING TO FAMILY MAINTENANCE
If your child is living with you during the divorce proceedings in Singapore, you should also prepare all relevant documents for maintenance. The court will assess who has more financial capacities between you and your spouse. The chosen party will deal with the following:
Custody and childcare,
 Maintenance of your children,
Maintenance of spouse, and
Division of marital assets
DOCUMENTS RELATING TO MATRIMONIAL ASSETS
Lastly, your divorce in Singapore would also require you to hand in documents relating to marital assets, including:
Bank statements,
Payslips,
 Income tax documents,
 Credit card statements,
Housing or property documents.
 Renovation receipts, and
 Insurance policies, if there are any
If you're keen to learn more about divorce in Singapore, including the cost, lawyer fees, grounds, and other relevant information, you may talk to the legal team of Lie Chin Chin today.